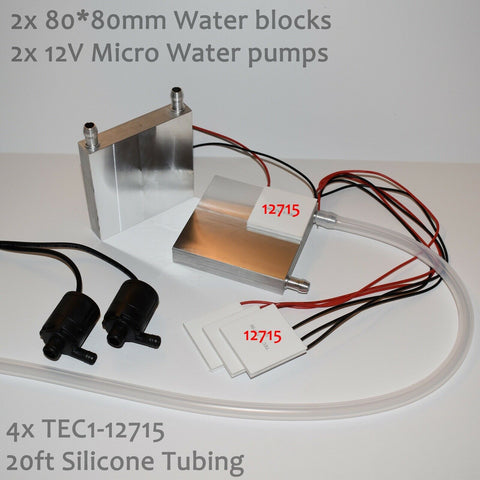 Water Cooling Kit - 4x TEC1-12715, 2x pumps, 2x 80*80 blocks, tubing
Water Cooling 4 Chip Kit
A high quality kit consists of:

Two large 80*80*15mm water blocks. These blocks are not like your cheap-o 40*40 blocks that arrive bent, dinged up, with poor surface quality. They are large, heavy (200 grams each), and lapped flat.

Four top quality TEC1-12706 SR Peltier chips by Cold&Colder. The chips have better reliability, smooth surface, and higher quality components than most 12706 

Peltier

 modules on the market.

Two 12V silent brushless miniature water pumps. Amazing mini water pumps that you would use (one for cold side and one for hot side) that we sell for $10 a piece.

10 feet of premium pure silicone 1/4" x 3/8" tubing. Silicone will not age, crack, or crease, and remain soft and pliable for many years.
This allows you to put together a water cooling module that can operate at u
p to 320 Watts if connecting 4 chips in parallel.
Examples how to use this kit:
Pull heat from one tub of water and into another, cooling one of the tubs of water to freezing or below if needed

Build your own air conditioner by simply adding a radiator to both sides of the setup
All parts are top quality.
---
We Also Recommend
---