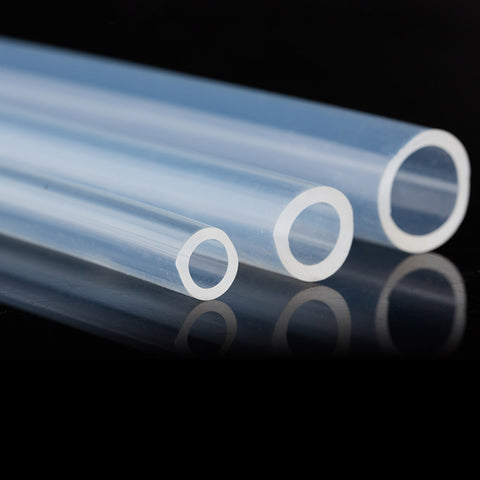 Medical Grade Platinum 1/4" I.D. x 3/8" O.D. Silicone Tubing by the foot
Platinum cured, maximum transparency, maximum quality medical grade silicone tubing. The highest grade silicone not typically available on consumer market. Benefits: maximum longevity, color stability, inert, temperature fluctuation resistant, biocompatible material with no hazardous materials. 

Very versatile size that fits many small appliances (like our super awesome amazing small water pump, etc). Good wall thickness, does not collapse easily. Silicone stretches, this hose can fit over larger barbs (will stretch to fit over objects up to 10mm - 1/4" in size).
SHORE-A hardness of 50 is soft and more elastic, while 70 is tougher. For applications requiring small radius turns of tubing, peristaltic pumping, and other situations where the tubing can be frequently squished, the 50 hardness is ideal. Any situations involving air pressure or suction, as well as general rugged liquid transfer applications, the 70 hardness is ideal.
UV resistant; does not deteriorate outdoors

Extremely flexible and stretchy

Does not collapse when bent like PVC tubing 

BPA and lead free; food safe, medical safe

Extremely durable

Insulates extreme heat and cold

Works from -100°F to +500°F
1/4" (6.35 mm) inner diameter

3/8" (9.53 mm) outer diameter

Medical Grade Silicone (not sterilized)

Translucent color; 50A and 70A hardness

Platinum cured

Bend radius - 1.5" (3-inch U-turn without collapse when empty)

1.5 mm wall thickness

13 grams per foot
---
We Also Recommend
---